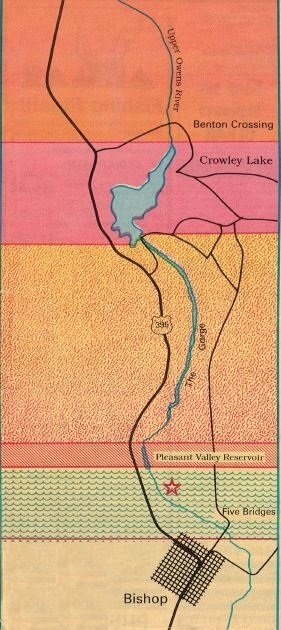 Owens River 2019 Fishing Map and Fishing Report, Mono Hunting, Public, Clubs, and Ranches
Owens River 2019 Fishing Map and Fishing Report and Mono Hunting on Public Land, Clubs and Ranches
Fishing Report and Map 2017 Owens River
Owens River both above the lake and below the dam holds s some pretty nice fish in
there, holding both
browns and rainbows.
Below
Crowley Lake is open year-round, but above
the lake is
open only during the general
trout season.
CATCH-AND-RELEASE ONLY on public lands with barbless artificial flies and lures only.
Up River from the town of of
Bishop is
wild trout waters. In other areas, both
native and stocked trout
from
around 12 inches up to 20 inches.
As seen in our Fishing Map, the Upper
Owens is above Crowley Lake and snakes around the valley
with many detours and alternative
channels.
The other best areas are the upper
stretch from its entry into lake
up to where it enters private property.
Lots of
anglers go from the Benton Crossing
Bridge,
where usually it is stocked
but still there are some sizable
3- to 5-pound
brown trout.
Some brown trout
fishing right below the Crowley dam, but because of
the pipeline, the gorge area
between Crowley Lake and Pleasant
Valley Reservoir is not accessible.
Our fishing map shows that from the Pleasant Valley dam to the
Five Bridges,
the
Owens River is designated as a wild trout
fishery and trout here are mostly I2 to 16
inches , the trout
naturally holding their own population .
Our fishing report indicates
Panther Martin lures, Rooster
Tails
work well but stay barbless, please., and Fly fishing is also popular
here with March Brown and Captains
as two of the preferred patterns.
The river gets brush heavy near Bishop,
but there is
good spots to fish.
Private Fishing Maps and Oregon and California Hunting Clubs, Hunting Ranches
If you like our Fishing map and information on how to fish this lake, we have many more hunting and fishing maps, here is a screen shot, but if you want more info, click on this link:
Also, if you want very specific county by county information on fishing and hunting clubs in California and Oregon for private fishing, hunting clubs, and exclusive network of hunting ranches
found no where else, click on this link to go to the site:
Please click on a County for Fishing and Hunting Clubs, Ranches or the Best Public Land Areas
Please click on a County for Fishing and Hunting Clubs, Ranches or the Best Public Land Areas
Contact Me
for Newsletter
Get on our mailing list for Newsletter and to receive New Fishing and Hunting Maps and Hot Spot News in your areaIf you want FREE info on Hunting access and Fishing on over 200 Private Ranches and Hunting clubs, fill this out ! (We NEVER release your info to anyone not specific to this inquiry!)