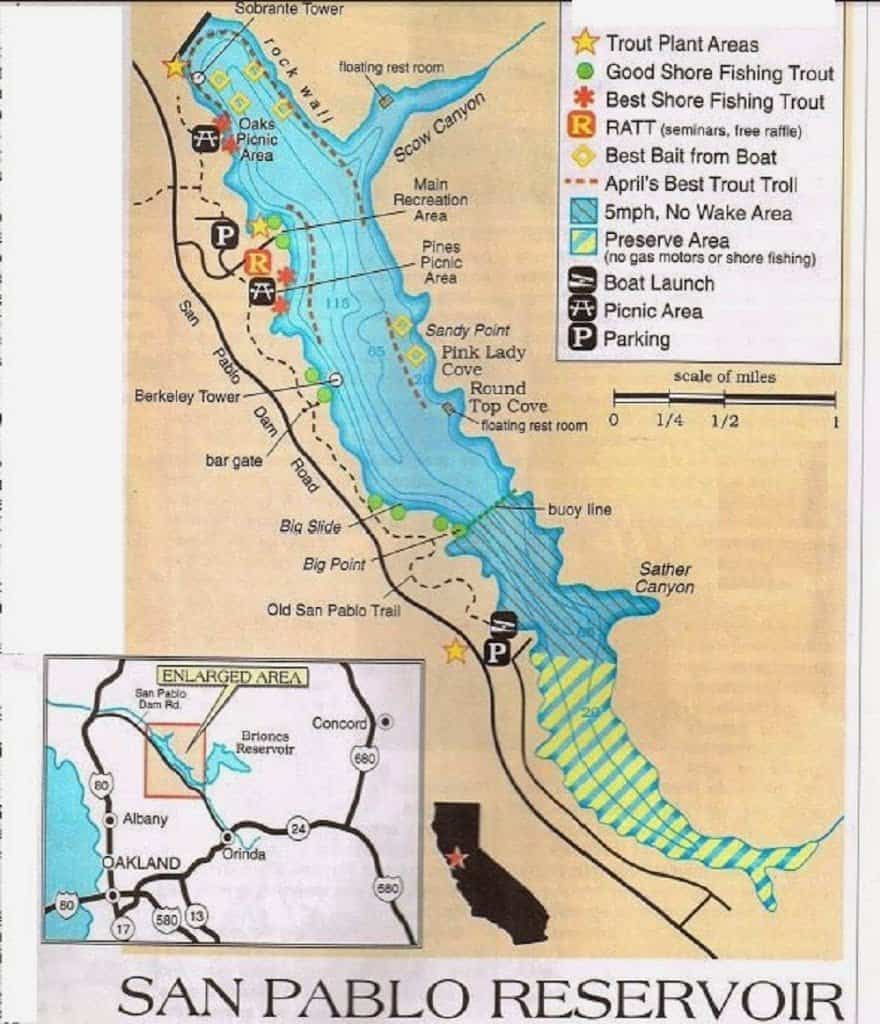 San Pablo Reservoir 2019 Trout Fishing Map and Fishing Report
CALIFORNIA FISHING MAP OF SAN PABLO RESERVOIR AND LOCAL HUNTING CLUBS
BEST AREAS FOR TROUT FISHING AND FISHING REPORT IN CONTRA COSTA COUNTIES BEST LAKE!
ALPINE SETTINGS and some nice trout are the big attraction at San Pablo Dam Reservoir in El Sobrante, a Contra Costa County Fishing Lake is OPEN FEBRUARY to NOVEMBER. So, call first for exact days. Use our Lake fishing map below for best areas!
With grass covered slopes meandering to the water's edge, old growth trees standing shoulder to shoulder at every point of the compass and a lake teeming with rainbow trout, you might think you've landed in the Sierra Foothills. It would hardly cross your mind that only a few minutes' drive away lies the mega-urban sprawl of the Bay Area, its San Pablo Lake- otherwise known as That Dam Lake – is an alpine escape for trout and bass anglers living in or near the big cities.
According to our fish report, the operators of the lake stuff the bejeezers outta the lake every week, 3,600 pounds a shot. The DFG adds more, but you never know when. These stockings consist of trout that average a pound a piece, but 10 percent of each load qualify as whoppers—fish between 5 and 15 pounds – and just where the trout are planted varies to spread out the catching. Our Fishing Map shows where the plants take place.
Boat less anglers or those afloat will find good action at San Pablo Lake. The shore anglers will find their odds of battling trout just as good as the boaters'. Different techniques will apply, but expect strikes on both baits and artificials.
BEST AREAS: Big Point, Big Slide and Main Rec as areas with big reputations for pegging your trout, but right now these aren't your top picks. In the early spring, target the Pines or Oaks picnic areas as prime trout turf. Our fishing report notes that plants occur at the main launch ramp, near Main Rec and, when road conditions permit, near the dam. Points and obstructions are best for bass fishing.
ROD BENDERS: Power Bait provides more bent rods than any other bait.. Go with chartreuse or rainbow with glitter. Night crawlers will knock 'em dead too; be sure to aerate them and slather the worm with a scented oil. You can't use minnows here. Anglers rarely use crickets for bait, but the little buggers are simply trout slayers and may be the key you seek. Be sure to use your two-rod stamp and double your chances of a hook-up. You'll want to rig up with a slip sinker, and go with fluorocarbon leader as the ultimate setup.
Quick Facts Fishing Information San Pablo Reservoir
What & where: San Pablo Reservoir as our fishing map shows, provides rentals, a restaurant, hiking/bank access trails, is near Richmond and Orinda, an 866-acre drinking water lake with docks and handicap fishing pier, with 14 miles of shoreline. Notes: Two cycle outboard motors are prohibited. Four-cycle engines and electric trolling motors are permitted.
Species: The primary species is trout but fishing is also good for catfish and black bass.
Lake has a 25 m.p.h. speed limit and has several no wake areas, boat may be equipped with a gas-powered motor, but only the electric motor or oars may be used in the preserve
For the record: The records at this lake are: trout, 17.8 with five m.p.h. limits. The natural preserve south of the lake; catfish, 31.3 pounds; black bass, 17.2 pounds; Your catch might break these lake records: sturgeon, 62 pounds; redear, 3.4 pounds; crappie, 2.25 .
Facilities: San Pablo has a bait and tackle shop, boat rentals too.
Call: The Dam Company (510-223-1661)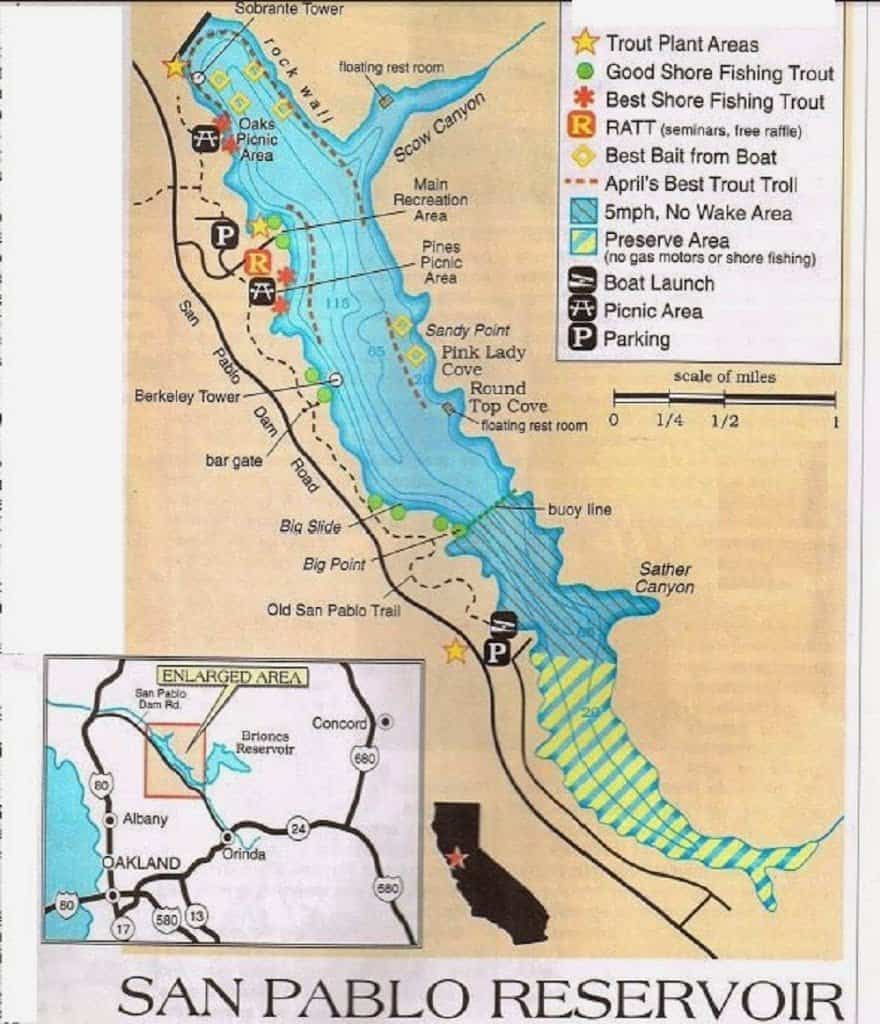 HERE IS SOME MORE HUNTING MAPS OF PRIVATE AND PUBLIC FISHING AND HUNTING, COUNTY BY COUNTY INCLUDING CONTRA COSTA FISHING AND HUNTING:
WWW.FREEHUNTFISHMAPS.COM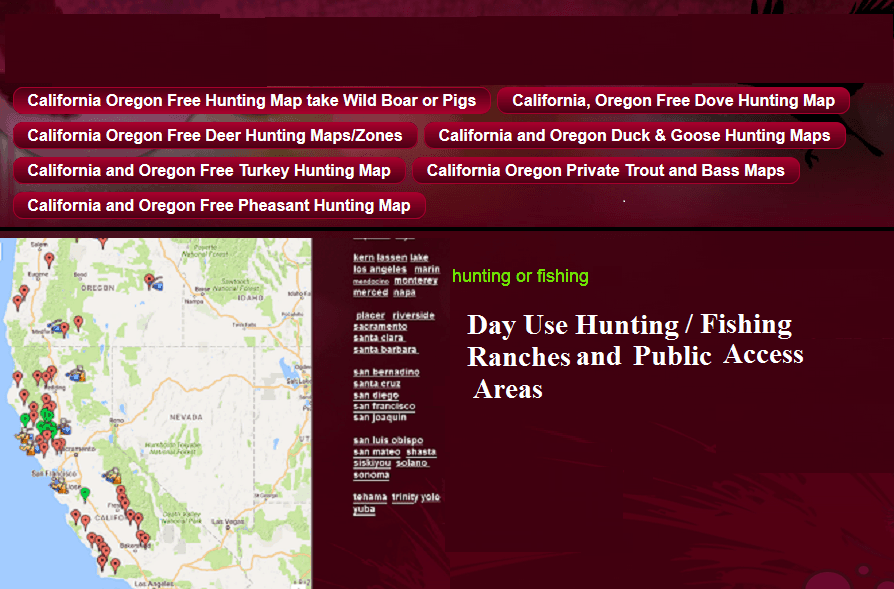 California, Oregon list of hunting clubs, public and private fishing and hunting!
Click on a county for Public lands, Hunting Clubs & Private Ranches:
Please click on a County for Fishing and Hunting Clubs, Ranches or the Best Public Land Areas
Please click on a County for Fishing and Hunting Clubs, Ranches or the Best Public Land Areas
Contact Me
for Newsletter
Get on our mailing list for Newsletter and to receive New Fishing and Hunting Maps and Hot Spot News in your areaIf you want FREE info on Hunting access and Fishing on over 200 Private Ranches and Hunting clubs, fill this out ! (We NEVER release your info to anyone not specific to this inquiry!)