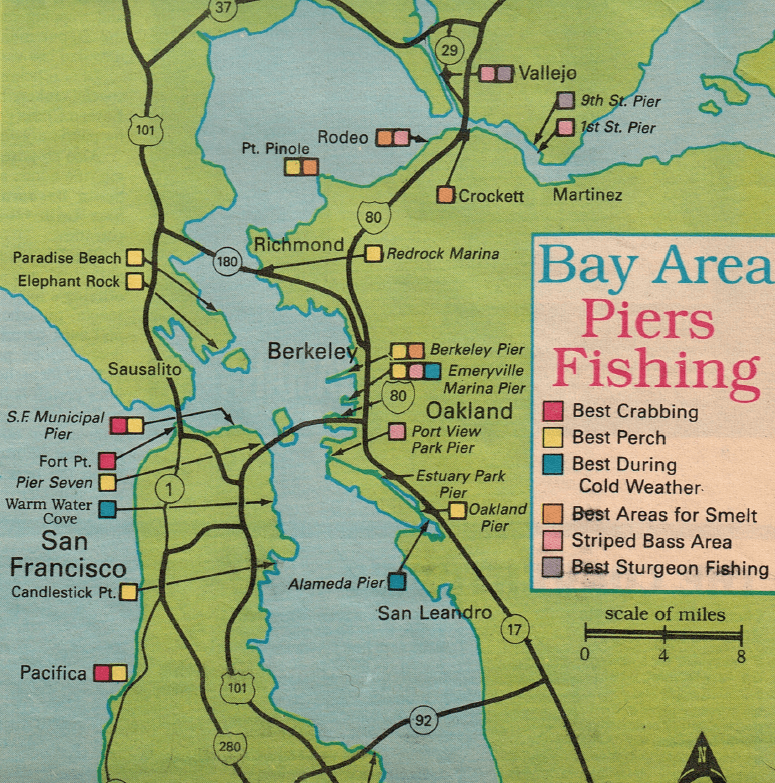 SAN PABLO, SAN FRANCISCO BAY FISHING PIER MAPS AND INFORMATION
SAN PABLO, SAN FRANCISCO BAY FISHING PIER MAPS AND INFORMATION BERKELEY, PACIFICA, ALAMEDA, 9TH STREET, RODEO, POINT PINOLE, REDROCK FOR STRIPERS, PERCH , HALIBUT, STURGEON, SALMON
See 102 hunting ranches and fishing clubs with farm ponds…get access to ALL of them…see below the map for info and fill out the form
Vallejo Pier: Fishing can be  excellent at times at this large pier  which crosses the Napa River near  Mare Island in the North Bay. Anglers  catch stripers, sturgeon and flounder on  a daily basis with a wide variety of  baits, including the popular mud- suckers. Anglers  catch quite a few throwbacks under 40  inches, but the chance of a hooking into  a submarine sized diamondback keeps  the intensity high.  lt's a large pier  with plenty of room.  Stripers up to 35 pounds have been  landed off the pier in recent days as well  as flounder and jacksmelt. The pier is  open 24 hours a day and bait and tackle  are available.   
Martinez Pier: Anglers have  landed sturgeon up to l00 pounds off  Martinez Pier this spring. Although the  centurions are uncommon, diamondbacks up to 50 pounds are not. Fishermen do  quite well with grass shrimp.  Bait anglers also catch a fair number  of stripers and Bank access is good directly  under the Benicia Bridge on the other  side of Carquinez Strait but remember  sport fishing licenses are required there,  while pier angling is free.   
Crockett Pier: Stripers and  flounder are' the main catches here, similar to other north-end piers. Redtail  surfperch are abundant at times. Bait,  tackle and seafood restaurants are available at the pier which is located off  Dowrelio Road.     
Rodeo Pier: This small, old pier  offers fair fishing for stripers and  flounder with an occasional sturgeon  showing up. Perch, jacksmelt, flounder  and skates are more numerous. Fee for  pier located next to Rodeo Marina is $5.00. Bait, tackle, restaurant are available.     
Point Pinole Pier: This concrete  pier was completed in I977 near Hercules Wharf and fishing is good for  smaller fish such as perch, flounder,  jacksmelt and kingfish. A few striped  bass are landed each spring.        
 Red Rock Marina Pier: Only a  small portion of this once large wharf  remains open to public angling. The  small but productive pier offers excellent perch fishing, thanks to excellent  cover and forage. The pier is located  north of the Richmond-San Rafael  Bridge.     
 Berkeley Pier: This is one of the Bay's top fishing piers and sources  at Berkeley Marina Sports Center   said striped bass,  perch, flounder, kingfish and smelt all  bite baits here.  Berkeley Pier is part of I31-acre recreation area that offers a wide variety of  angling opportunity. The pier runs three  and a half miles out to the bay from the  shore. Bait, tackle, restaurants and  other facilities are available. 
Emeryville Pier: This lighted pier is a  occasional  sturgeon are caught, but small fish dominate the  catch. Tackle, gear, restaurants and shops are available all along the East Bay shores    .
  South Bay piers: Anglers can dangle a line  at a number of public fishing piers including San  Mateo Pier, where lots of perch, flounder and  jacksmelt are being caught right now.  Fishing is good throughout  the South Bay at a number of piers including Fort  Point, Marina Green, Fort Mason, Muni, Pier  Seven, F isherman's Wharf, Agua Vista, Red-  wood City and San Leandro.
Check the map for  specific locations of each of these piers.  All of the South Bay piers produce the same  kinds of fish, mainly flounder, perch and kingfish,  with an occasional striper and sturgeon.  Currently, jacksmelt are thick around the Burlingame Flats.
Gear
Smelt are nailing  pile worms and blood worms fished with bobbers  and l to 2 ounces of weight. A popular jacksmelt  rig is a '/z-ounce to l-ounce sinker attached to a  surf leader. Tie on three No. 8 hooks on the 3-foot leader and a 2-inch bobber to give the baits buoyancy. Pile worms are considered the top bait, but  when the smelt are spawning, a '/4-ounce silver  kastmaster with a feather on the bottom will  attract them.       
when it comes to perch fishing Grass shrimp and  pile worms tempt perch up to 3 pounds!  But stripers can also be caught in the spring, as  schoolies have moved up toward the Delta and  larger up to 30 pounds and filtered into the  South Bay.
Stripers can be caught off the pier and  from the banks under the San Mateo and Dumbarton bridges. half-ounce white or red Hair Raisers  and ~%»ounce silver Kastmasters will catch big  bass when cast and retrieved from the shores.  lncoming tides offers good fishing with live bullheads and mudsuckers.  perch fishing is the hottest thing going  right now, as pile worms and grass shrimp are  enticing the small but tasty fish. 
Please click on a County for Fishing and Hunting Clubs, Ranches or the Best Public Land Areas
Please click on a County for Fishing and Hunting Clubs, Ranches or the Best Public Land Areas
Contact Me
for Newsletter
Get on our mailing list for Newsletter and to receive New Fishing and Hunting Maps and Hot Spot News in your areaIf you want FREE info on Hunting access and Fishing on over 200 Private Ranches and Hunting clubs, fill this out ! (We NEVER release your info to anyone not specific to this inquiry!)