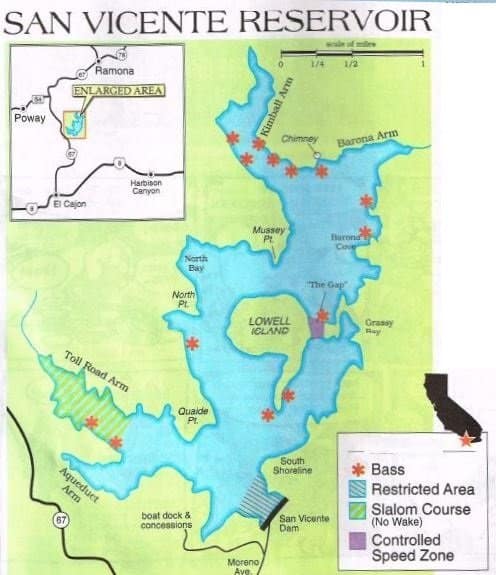 San Vicente Lake Fishing Map, Fishing Report, Hunting Clubs, private fishing nearby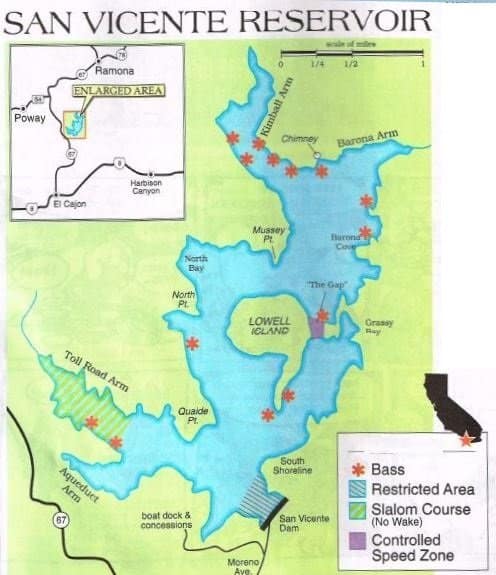 2019 San Vicente Reservoir Fishing Map, Fishing Report

Best Areas and Where to Fish San Vincente

Local Hunting Clubs, and private fishing
This famous San Diego lake has been closed for 3 years to raise the dam. In September of 2016, it reopened to great success, with 100 fish days not unheard of. Lately the bass are extremely deep in the 40 to 60 depth range. Jigs and weighted plugs seem to be the most effective.
Probagly in December the bas will move up to the 10 to 18 foot range while some remain deep. This is all about the lake being reborn and the fish are leading the way.
Producing fish in the spring is one thing, but what can
San Vicente Lake possibly
have to offer during the
transition to early summer?
Spring time you stalk the back ends of Kimball and Barona arms or the shallows of North and Grassy bays (see fishing map) as post spawners will be lingering on the edges of the spawning areas and the medium depth structure spots. Finally they will be feeding actively on with the first shad hatches in May.
Our fishing report concludes, when bluegill and green sunfish arrive in big numbers to spawn or forage on bass fry or eggs, it's time to change your strategy. In these clear lakes down south, fish start spawning in February, and after they have already gone through the nesting ritual, head out through the Gap, fishing rocky outcroppings or quiet pockets as you go.
Water temperatures from
the island northward will
usually be a couple of
degrees warmer than the
lower end of the lake and
sometimes more than that.
You can thus find active fish right at first light.
Go with a one-two combination of a Deep Little N or 3-inch Fat Free Shad in fire, tiger or perch color and work the corners of the cuts or the prominent points or bluffs.
See the fishing map for more info.
At first light, you can fish less than 5 feet of depth but as the day proceeds, you should move on the Barona side. Go with deeper diving models that can reach 15 feet. The situation presents itself as how high the grass has grown up. Crank baits are more enjoyable to fish and more efficient when you don't have to clean the goop off your bait on every other cast.
Shallow running crank baits ride over the tops of the weeds. Otherwise you have to fish much deeper, beyond where sunlight penetrates and grass grows. That probably eliminates cranks.
In April,
shad are not the key forage,
but anything small and
swimming will do.
Sometimes something big
— hatchery trout, adult
bluegill, injured bird or
wayward terrestrial — will
be found in the shallows and
the bigger post spawners will
jump all over them.
A Zara Spook should be your first choice. It has a slow, slithering action.
A second choice, ideal for San Vicente's early morning breeze, is a prop bait. A Devils Horse or
Dying Flutter are two pretty
common lures, but you
might want to try a Dalton
Special, which has only a tail
blade.
Prop baits seem to get more bites than chuggers at this time of year, but matching the surface conditions — subtle in flat water and noisier in a riffle — will get you a few good strikes. According to our fishing report, by fishing the northeast side of the lake, you also extend the top water bite as the shadows will linger close to shore.
ADJUSTING FOR SUNLIGHT: The May/June period will be the optimum period for swimming baits from slugs to topwaters to cranks because there will be so many forage species — fry and adults — in the upper stratum. But some fish will always pick a safe zone roughly twice the depth you can see a lure in the water.
Light penetration diminishes rather dramatically, even in clear water, and the best evidence is the imaginary line where aquatic vegetation ceases to grow. While in water less than 15 feet deep, it's easy to see the tall strands or lush leaves, down in 25 feet, there may be nothing more than some bits of brown growth, unable to bloom. Dragging a sinker from deep water to shallow will give you an indication of where the growth ends. Fishermen use the "twice the lure visibility depth" rule as a guideline. Bass seem to recognize a certain depth offers them a bit of security or comfort that lines them up and gives you a range to concentrate your presentations.
According to our fishing report, some of the "can't miss" areas at San Vicente at this time of year are the west side for the Kimball chute from the Kimball Roadbed to within 50 yards of the sand bar. The opposite side of the chute is also worth trying. Meter the area and find where most of the fish are holding, then go right over them with a dart head or drop shot rig and a shad colored plastic worm.

It's probably warm enough for the slalom skiers to be out in the Toll Road Arm, so you won't be able to move across the bay or run on plane. Instead, go to the south side of the arm and split shot the bluff bank from the point going into Aqueduct toward the back end. This hard bottom area doesn't have much growth and even when there isn't much of a midday bite elsewhere, you can drag a few here with a green weenie or some- thing in smoke or oxblood.
Before the grass grows too well in the clear water,
crank baits can be added to drop
shot worms or top water
baits for best action.
Other Species: Channel and blue catfish, rainbow trout,
bluegill, red ear and green sunfish, crappie
Boat rentals: Reservations taken during business hours
Information
We have many maps or go to our county by county site for more specific info :
Oregon and California hunting and fishing
maps of hunting clubs, hunting ranches, public and private fishing:
If you like our Fishing map and information on how to fish this lake, we have many more hunting and fishing maps, here is a screen shot, but if you want more info, click on this link: www.freehuntfishmaps.com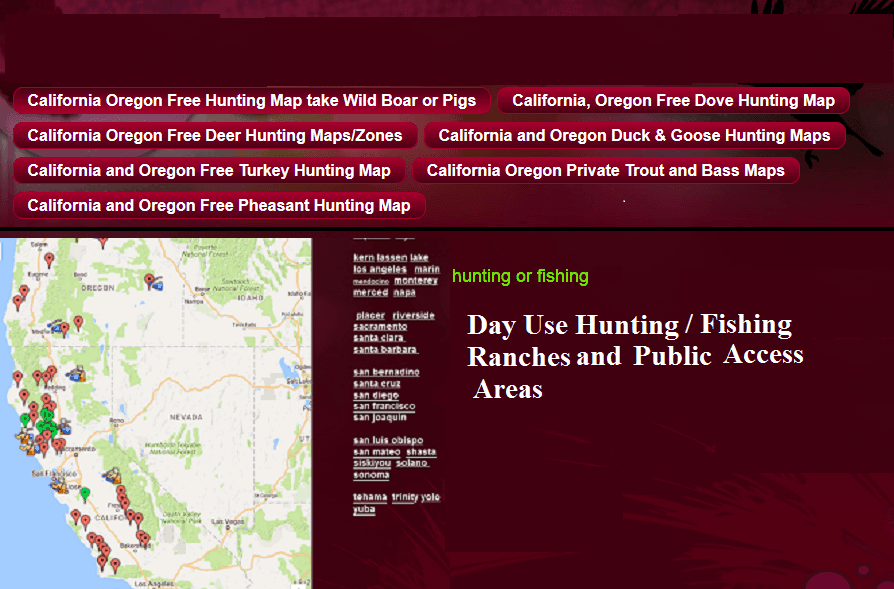 Also, if you want very specific county by county information on fishing and hunting clubs in California and Oregon for private fishing, hunting clubs, and exclusive network of hunting ranches found nowhere else, here is a screen shot below, click on this link to go to the site: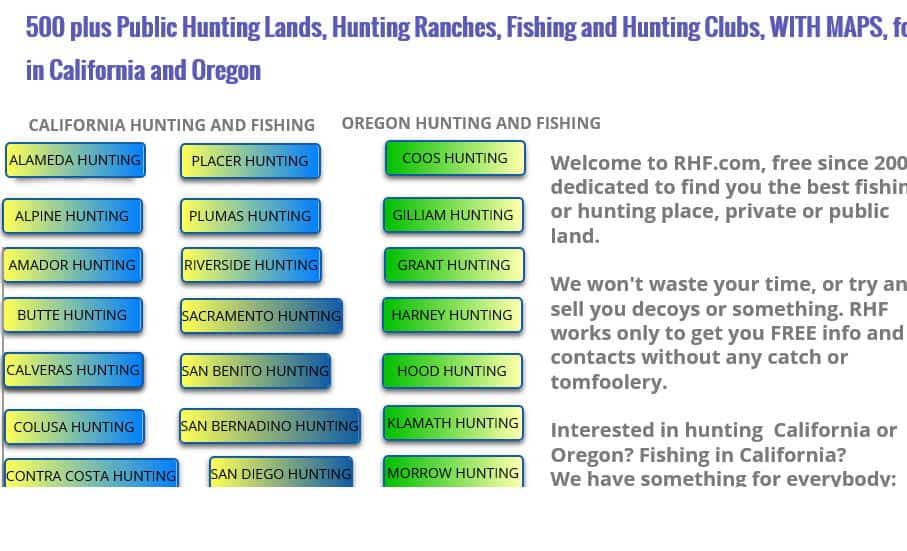 we have many more fishing maps and hunting maps at www.freehuntfishmaps.com
California Hunting Clubs for Turkey, deer, pig, quail, fishing with Hunting Maps.
Please click on a County for Fishing and Hunting Clubs, Ranches or the Best Public Land Areas
Please click on a County for Fishing and Hunting Clubs, Ranches or the Best Public Land Areas
Contact Me
for Newsletter
Get on our mailing list for Newsletter and to receive New Fishing and Hunting Maps and Hot Spot News in your areaIf you want FREE info on Hunting access and Fishing on over 200 Private Ranches and Hunting clubs, fill this out ! (We NEVER release your info to anyone not specific to this inquiry!)