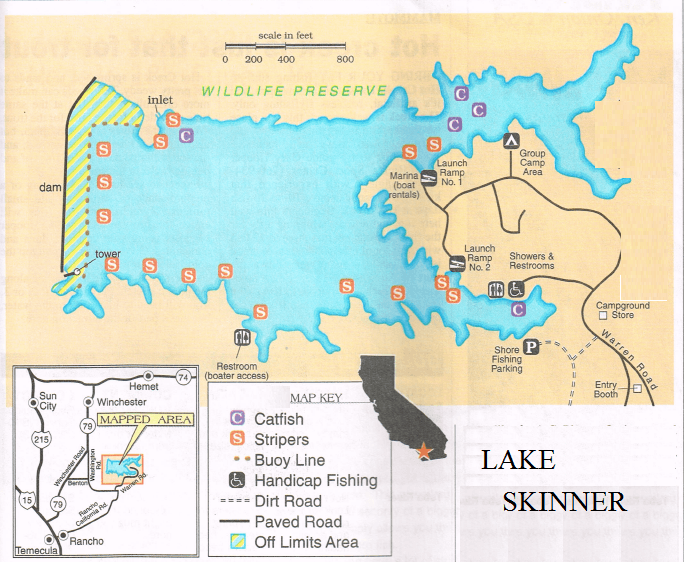 Skinner Fishing Map, Fishing Report, Hunting Clubs, 2019 private fishing and Riverside Hunting Clubs
How to Fish Lake Skinner
The striper fishery at Lake Skinner is an oddity. Skinner didn't get its striped bass from northern California like most other southern California striped bass lakes.
Instead, they arrived from the Colorado River via an
aqueduct/pipeline which covers a couple
of hundred miles of desert and mountains, Small stripers must be unbelievably hardy to survive such a trip, but
that's the nature of this game fish.
Skinner is operated by the Riverside County
Parks Department and because of its
small size as striper lakes go (just 1,140
surface acres) it offers anglers a complete, but condensed, classroom to discover striped bass and get some idea of
how to fish for them.
Skinner's small size and shape concentrates the fish more than the other striper
lakes in the area, and its
location in lower Riverside County makes it
accessible for anglers
from both the San Diego
area and Los Angeles-Orange County.
Add good facilities
— a campground,
store, dual launch
ramps, and, best of all,
a 10 mph speed limit
with no jet skis and
other personal water- craft or water skiing,
and you have a first- rate fishing lake.
On
the other hand, a singular drawback is a
prohibition on float
tubes and wading, and
only limited shore
fishing access. This
makes Skinner a boat
angler's lake, but not
one that requires a
large boat. Lake rules
require a 10-foot boat
length and you can fish
a lot of it with just a
good-sized electric
trolling motor on a
small boat or pram.
FINDING THE FISH:
The primary tactic for
striped bass is one that
any angler can learn quickly. It's location, location, location.
If you can find the fish, you can usually
catch them. Early in the morning, and
sometimes in the evening, you can usually find both shad and feeding schools
of stripers in very shallow water in the
east end of the lake.
The shallow water action occurs in the spring when the shad
begin to gather in huge schools in the
warming waters of the back bays, and
again in the fall into winter when surface
waters cool enough for both bait and
predators to rise out of deep water. When the shad go shallow, the stripers follow
them in, busting into the shad and then
moving on. Over the surface of the lake,
action can be nearly constant, but it's
never in the same place for long.
Actually, It doesn't do a lot of good to pursue
the schools — it just puts them down.. Getting in an area where you
see indications of shad schools, then just
waiting for the stripers to make contact
is less likely to spook the fish.
Schoolie-sized stripers weighing from
4 to 8 pounds tear into the schools of
shad like a pack of Wolves. In the shallows they tend to spook easily, and most
anglers have discovered the
technique of just drifting in the shallow areas
waiting for the snipers to boil within
casting range rather than pursuing them
and putting them down.
Lures and baits run from live shad dip-netted (cast nets and snagging are illegal) and fished live, to hunks of cut anchovy, dead shad, or
mackerel. On smaller stripers,
nightcrawlers and chicken livers work.
ALWAYS IN SEASON: Fishing
here is pretty much a year-round deal. 20 pounds is a good fish, using
lures like the A.C. Plug or Optimum ant
Basstrix swim baits. Large Rapalas, Giant
Bomber Long-A lures can be cast or
trolled for stripers.
Because Skinner has
little in the way of trees and brush on the
bottom, trolling is a great way to cover:
lot of area. Troll over the main lake
points and you'll probably connect witl
at least one striper, and perhaps many.
SQUARED AWAY: Skinner has a rough ly rectangular main portion, with a large
dam across the west end. An extensive
buoy line keeps you a distance from the
dam, and rules out the riprap as a placc
to cast for stripers.
The inlet where water
swirls into the lake is on the north sidt
not far from the dam, and there is a steel
slope which runs for some distance east
from there. The conventional striper fishermen belly up to the buoy
line at the inlet and bombard the white
water right where the channel enters this
lake with huge wood plugs thrown by
surfcasting rigs.
When the water is running, this area attracts stripers to feed
the dazed and dying baitfish.
The marina and launch ramp No. 1
always hold some stripers, as does ramp No. 4
in the south end.
Both launch
ramps can have groups of planted trout
milling around them at the right time
the year, and if you happen to be then
with a fly rod and a big streamer, it
increases your chances of connecting
with one of the lake's larger citizens.
QUICK VIEW
Location: 90 miles southeast of
Los Angeles. Take Highway 60
through Riverside or 91 through
Elsinore then south on I-215 to
Temecula. Turn east on Rancho California Road to entrance.
Open Season: The lake is open
year round and you can get
information on entrance fees and
camping by calling (909) 926- 541
General fishing info can be had by calling the marina at
(909) 926-1505.
Best Fishing: For striped bass, the
best times are the cooler
from late October through May (trout plants during the same
period get the stripers worked up). However, stripers can be caught year- round with various techniques. Largemouth bass fishing is fair in spring and fall.
Skinner also has a reputation for big crappie.
Best Methods: Top producer for striped bass is probably cut bait or live shad.
Shad may be dip-netted in the east end of the lake during the cooler months. Small hunks of anchovy, nightcrawlers. or pieces of cut mackerel all work for
stripers.
Big lures which mimic trout catch the larger fish. Swim baits and
crankbaits work well at times. The fly angler should concentrate on small
white/silver streamers that mimic shad.
Regulations: Striped bass have a ten-fish limit, no size limit at all Southern California lakes. Skinner has a panfish, 15 inch minimum size limit for
largemouth bass. Trout are limited to five fish, no size limit. Private boat launch and rental boats. No water skiing or jet skis.
Oregon and California hunting and fishing
maps of hunting clubs, hunting ranches, public and private fishing.
If you like our Fishing map and information on how to fish this lake, we have many more hunting and fishing maps,
Also, if you want very specific county by county information on fishing and hunting clubs in California and Oregon for private fishing, hunting clubs, and exclusive network of hunting ranches found nowhere else, here is a screen shot below, click on this link to go to the site:
California and Oregon for private fishing, hunting clubs, and exclusive network of hunting ranches
we have many more fishing maps and hunting maps at www.freehuntfishmaps.com
California Hunting Clubs for Turkey, deer, pig, quail, fishing with Hunting Maps.
Please click on a County for Fishing and Hunting Clubs, Ranches or the Best Public Land Areas
Please click on a County for Fishing and Hunting Clubs, Ranches or the Best Public Land Areas
Contact Me
for Newsletter
Get on our mailing list for Newsletter and to receive New Fishing and Hunting Maps and Hot Spot News in your areaIf you want FREE info on Hunting access and Fishing on over 200 Private Ranches and Hunting clubs, fill this out ! (We NEVER release your info to anyone not specific to this inquiry!)