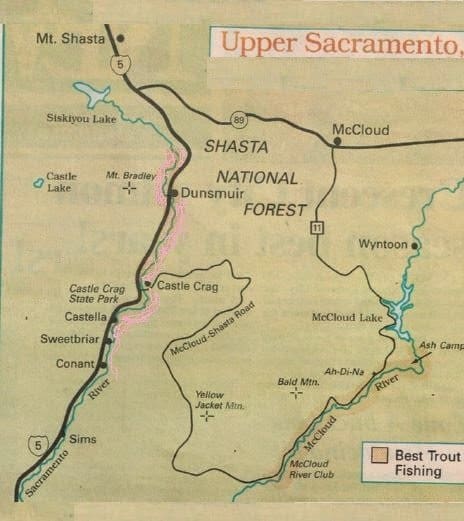 Trout Fishing 2019 Fishing Report for Upper Sacramento River Fishing Map, Hunting Public,Clubs, Ranchjes
Trout Fishing Upper Sacramento River

Fishing Map Best Areas & Fishing Report

Public Hunting Areas, Clubs, Ranches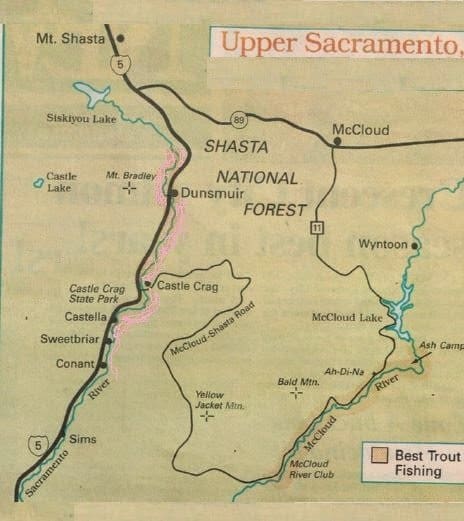 Where to Fish the Upper Sacramento River, Fishing report and Local Hunting Clubs
What would you say if one of California's
best trout population per mile
lie right next to one to the busiest
highways in California?
The Upper
Sacramento
River finds some of the best trout
fishing in the state, and while casting files and
retrieving lures as the cars and trucks roar by not sound idyllic, this is perhaps this is why people don't stop and fish.
But still it is amazing
the Upper Sacramento is fished so infrequently by Californians.
As shown in our fishing map, the river's source is in the
Shasta National Forest in southern Siskiyou County, into Siskiyou Lake, sort of a secondary starting point of
the river.
Fishing is excellent
at Soda Creek, the mouth of Little Castle Creek and Root Creek down to Castle Crags State Park. More down on I-5, there is great
Upper Sacramento river trout action at Castella, Sweetbriar and Contant.
The
Upper Sacramento continues
(see fishing map)
until
it enters into Lake Shasta. Open from the last
Saturday in April until Nov. 15, the limit is 10 trout a day, and you can use bait, flies and lures. It's
stocked,
but the wild trout population is the real quarry on the Upper Sacramento.
The wild trout can be sizable to 6 pounds, but
5 X
tippet line is what it takes to fool the wild trout, you need really light lines!!!!…..
Fly fishing patterns for the Sacramento suggestions: Best wet flies are Cro Fly, Yellow
Jacket, Black and Brown Spent Wings,
size 6 to 8. Best dry Flies are yellow-bellied
Humpy, orange-bellied Humpy, size 10 to
14; Light Cahill, size 14; March brown, size
10; Grey Hackle Peacock, size 12; California Mosquito, size 16
We (ranch brokers) have some private fishing for trout and bass in this area, and many free fishing maps, and lists of private fly fishing properties. If you want hunting clubs and information about public lands check out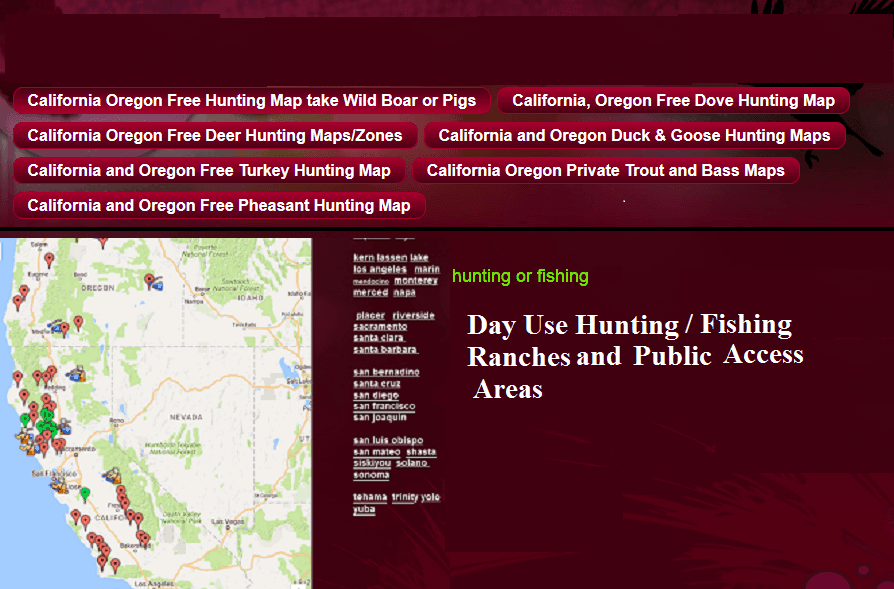 Even more, our sister site has 200+ ranches and hunting clubs, county by county, that you can hunt on or join.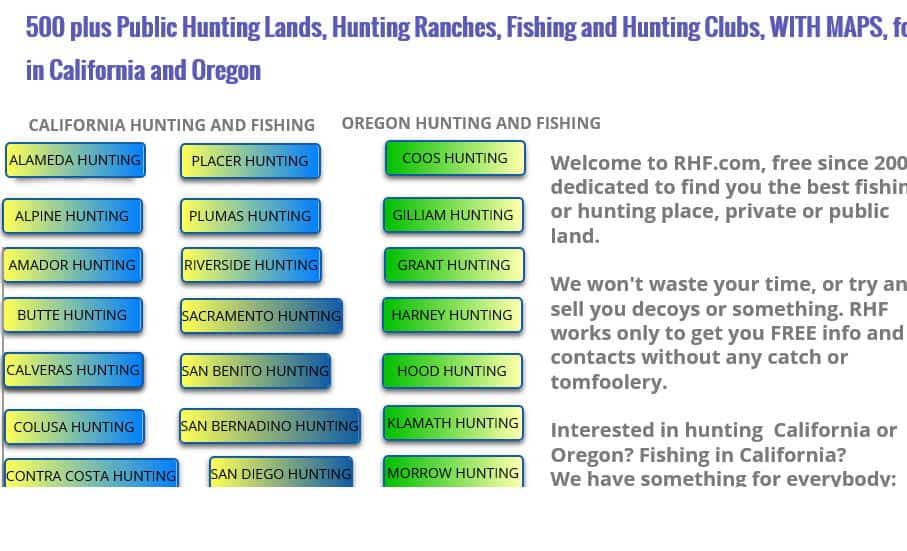 Please click on a County for Fishing and Hunting Clubs, Ranches or the Best Public Land Areas
Please click on a County for Fishing and Hunting Clubs, Ranches or the Best Public Land Areas
Contact Me
for Newsletter
Get on our mailing list for Newsletter and to receive New Fishing and Hunting Maps and Hot Spot News in your areaIf you want FREE info on Hunting access and Fishing on over 200 Private Ranches and Hunting clubs, fill this out ! (We NEVER release your info to anyone not specific to this inquiry!)