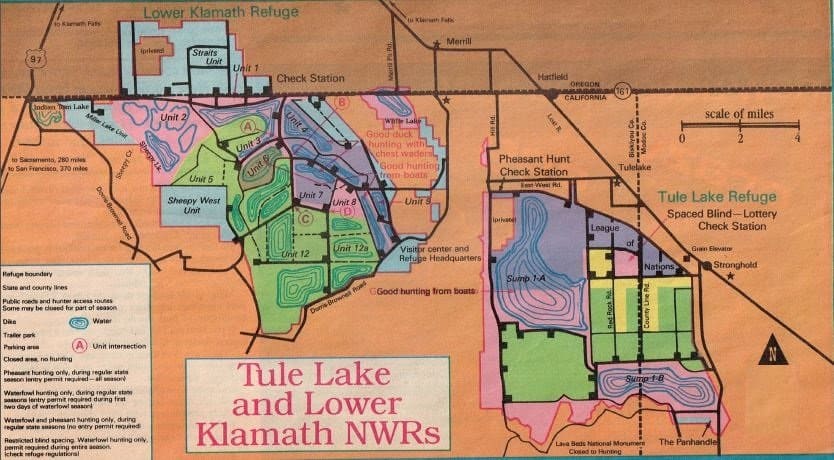 Tule Lake Refuge and Klamath Refuge 2019 Report and Refuge Map, Where and How to Hunt, Duck Clubs and Blinds
2019 California Duck Hunting Tule Lake Klamath Refuge
 -Lower Klamath Refuge Reports
– Color Tule Lake Refuge Maps
– How to hunt and Best Areas
– Local Duck Hunting Clubs and Blind lease, sales, and rentals
-Access to 80 Hunting Ranches and Hunting Clubs  for one monthly fee
L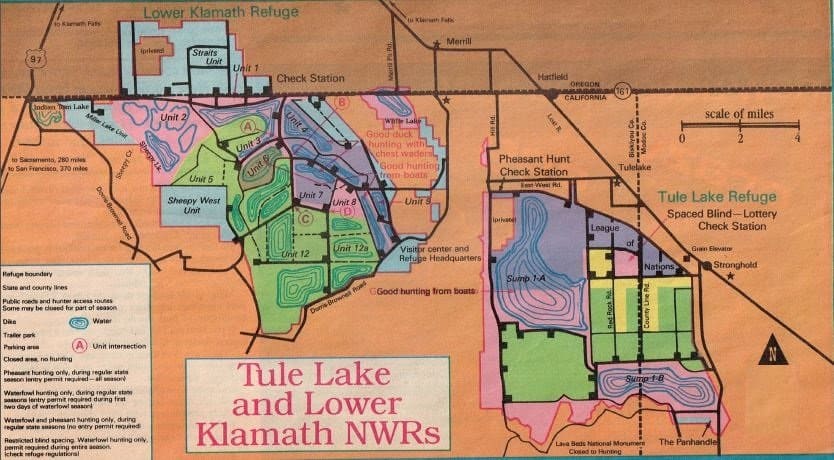 First two weeks Report 2016
Not bad hunting during the last two weeks for ducks and geese,out of Tulelake, and some new storm fronts should  keep the birds moving.
Hunters on Lower  Klamath and Tule experienced lots of competition, but the ducks started working the  hunt areas fairly well.  "
Becuase of the years of  drought on the Lower  Klamath side they are just starting  to put some water in the hunt  area, but Unit 6a has been  flooding.
 Unit 6b1 has the fresh flooded  food the ducks crave.
KLAMATH BASIN — In general,  Sump 1b has seen the  best action for ducks and a  few geese. The spaced blind  area has not been shooting well. the  Lake itself has been slow, there are  very few geese around and there has not been any new  fields flooded.  There is plan for more water for the  refuge this year, but November on should be excellent.
TULE LAKE DUCK REPORT, REFUGE MAP, LOCAL HUNTING CLUBS AND DUCK BLIND LEASES
TULE LAKE — There are lots and lots of ducks in the  Klamath Basin right now. Something like l20,000  pintails, just to start with. And the fruits of one of the  best local goose hatches in recent times. In short, hunters  who won't drive north to get into some of  the hottest Pacific Flyway shooting in the state could be making a  big mistake.  Stay tuned for more duck hunting reports as the season progresses.
According to local hunters,  it should  continue in the same vein.
 A lot of them are local birds that were part of a healthy  hatch, but almost all are young, which makes it tough to tell  in this part of the season whether you're looking at a female  mallard or just a "scraggly looking drake" .
 Pintails are thick in the area too,  have  been sitting more on closed areas than in the hunt-able sections.  A few widgeon are showing up as well.
How to Hunt Tule Lake Refuge and Lower Klamath
It is mandatory to have a boat on the Tule Lake Refuge,  true to its name, is chuck-full of tules that provide  natural cover. You don't even have to pull a camo on your boats; just work into some thicker cover and a few  tules over the boat.  The number of dekes depends a lot on how dense of cover you are in, only a half~dozen decoys, but also  spreads of 200 birds in open water..
Traditionally,  a lot of calling goes on at Tule Lake Refuge , partially  because of the species (mallards) that use the ponds there.
On Lower Klamath Refuge, chest waders are sufficient protection in most areas, as seen on our Refuge Hunting Map but on Units 4 and 6, you'll need a boat,  Decoys are highly recommended there, too,  although there is some limited pass shooting.
If there's any pass shooting going on for ducks, it's on  Lower Klamath Refuge on foggy and windy days, but you have to  have the right conditions,.  If you're a first-timer on the refuges or a relatively  inexperienced duck hunter,the channels in the marsh are a fairly complex system, and you have  to know where you're going.
 Traditionally, the more seasoned hunters take on the extra  challenge of hunting Tule Lake Refuge.  Another factor to keep in mind is that early in the season,  the water is maintained at a higher level than later. Starting sometime after the first of November, the  lake is drained some for flood control.
So some shallow areas  of the marsh that were accessible on the season opener may  not be by the second or third week of November.  About the first of December, hunters should check ahead  for ice conditions sometimes the entire refuge freezes. But, to that,  the "concentration" factor: the ice will isolate waterfowl in a  small percentage of refuge acreage, making them easier to  target.
Be sure and check with refuge personnel for ice conditions, use our Refuge Hunting Map  and don't hunt areas that aren't solid enough to be safe though.  Our duck hunting reports will try and keep you updated.
Goose hunting success depends not only on goose numbers in the Pacific Flyway and in the Klamath Basin, but also  on knowing how to hunt the various species that use this  immense oasis.  Tule Lake Refuge hunters bag mostly whitefronts and  snow geese
 Despite fair numbers of whitefronts in the  general area, hunters traditionally have a hard time getting them to  come into the huntable sections of the refuge.       Here's a few ways to boost the odds: whitefronts are a good decoying breed. As with ducks,  how many is a matter of choice, but hunters have been known  to set out "hundreds."  Some people also call whitefronts in, but some hunters feel, "If they're going to come in, they're going to  come in. "
 On the Tule Lake Refuge, shotgunners take a lot of snows  during most seasons too. But the light geese are much  harder to decoy than the whitefronts, so most  of it's pass shooting.
  The Lower Klamath Refuge (as seen on our Refuge Hunting Map) is where most of the honkers are  taken, and looks like a best bet this year, owing to record  hatch production of local birds.  The best hunting for the honkers is generally at the  beginning of the season and then later, after freeze-up.
If you hunt the Tule Lake Refuge unit, you better have a retriever as the cover is so thick in there, so a dog is highly recommended.  On Lower Klamath Refuge, dogs aren't as much of a necessity, but  they'll still make finding the birds a whole lot easier, and  probably provide you with more shooting time too.  With a well-planned strategy, pre-scouting and careful  hunting, chances are you'll bring down a limit of ducks and a  fat pair of geese.  But if you plan to dine on whitefront this season, better  load up the pick-up.   Stay tuned for more duck hunting reports.
California hunting clubs, hunting ranches, public and even private fishing
Hunting private lands in California has several advantages over the public areas. Chief among these are much less hunting pressure, better forage and water supplies and easier vehicle access. It's a fact of life, and hunting on private ranches is almost a sure thing.
We use a hunting map site that has over 200 private ranches, with or without guides
www.ranchhuntfish.com
Click on a county for Hunting Clubs & Private Ranches:
It's free, and get you access to our free map site too. Here is a copy of the home page: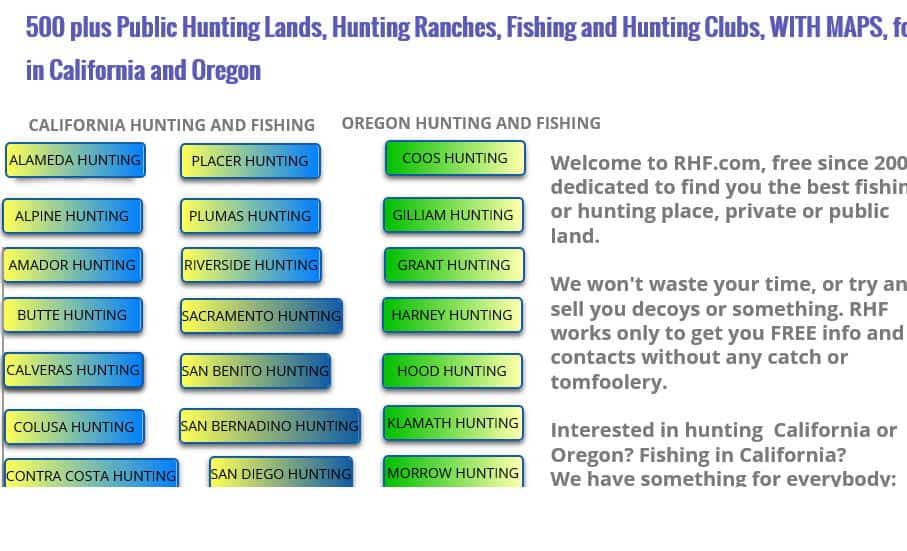 We have many more hunting and fishing maps, here is a screen shot, but if you want more info, click on this link: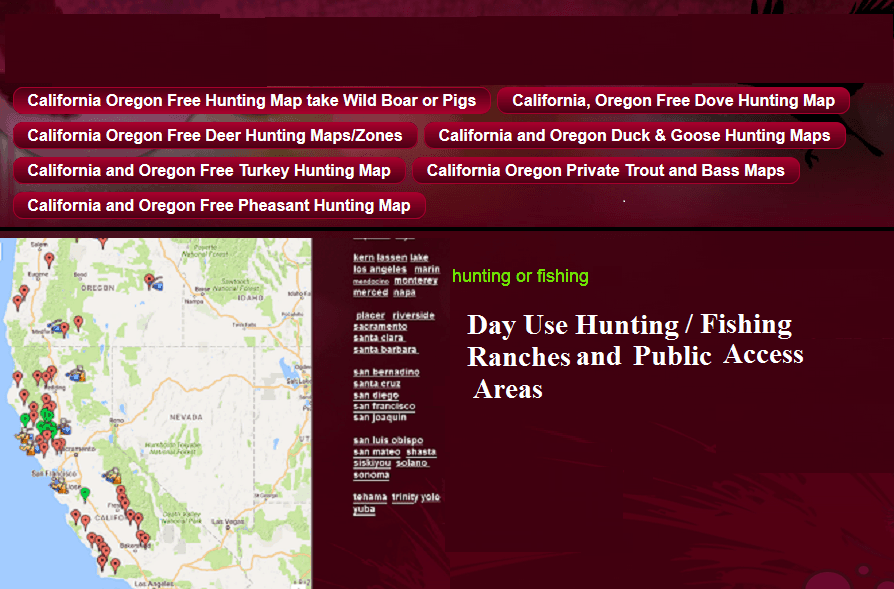 Please click on a County for Fishing and Hunting Clubs, Ranches or the Best Public Land Areas
Please click on a County for Fishing and Hunting Clubs, Ranches or the Best Public Land Areas
Contact Me
for Newsletter
Get on our mailing list for Newsletter and to receive New Fishing and Hunting Maps and Hot Spot News in your areaIf you want FREE info on Hunting access and Fishing on over 200 Private Ranches and Hunting clubs, fill this out ! (We NEVER release your info to anyone not specific to this inquiry!)