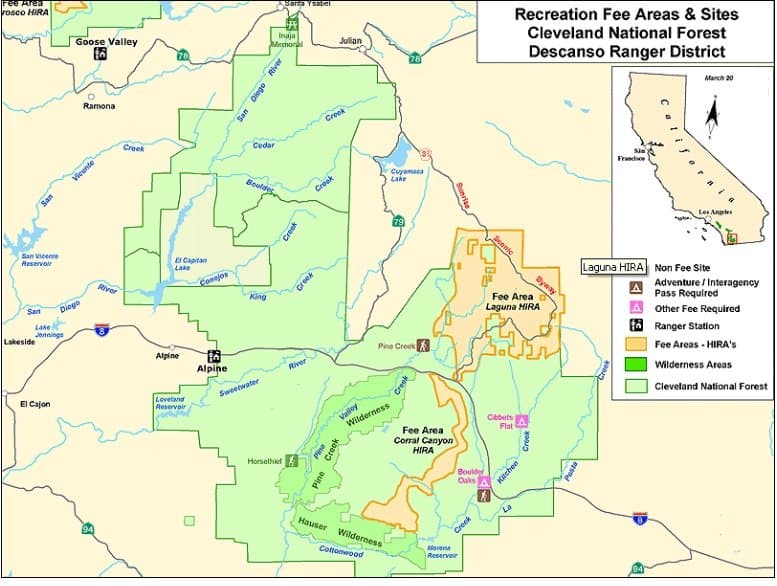 Turkey Hunting in Southern California San Diego County's Cleveland National Forest, and San Bernadino Hunting clubs
2019 Turkey Hunting Map and Report also Hunting Clubs, Private Ranches in San Diego, Imperial, San Benito, San Luis Obispo, Monterey and San Diego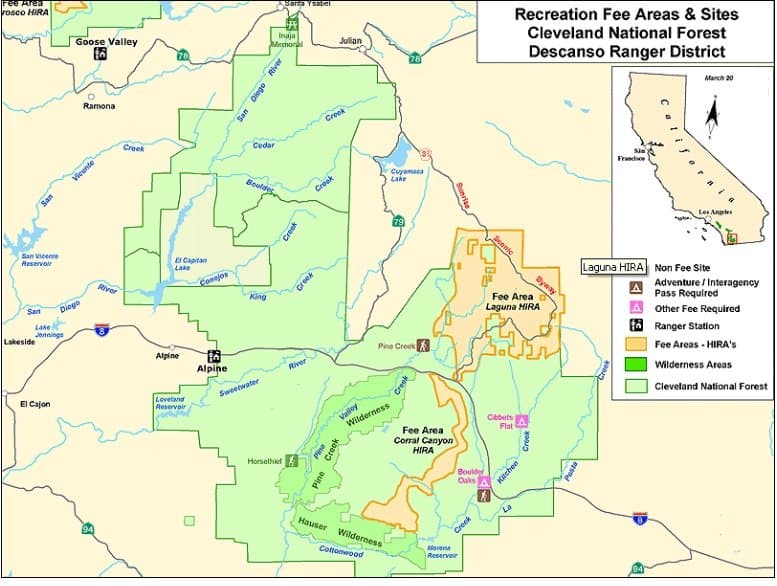 2017 Turkey Hunting Maps and reports in Southern California
San Diego County Turkey Hunting Improves in National Forests!
Best Areas:
THE NATIVE population of Rio Grande turkeys has increased the past couple of years. Thanks to back-to-back good breeding. seasons, good carryover of jakes and big toms and lots of
private ranches where turkeys can get away from hunting pressure, the outlook for years to in the southern portion of the Cleveland National Forest is very optimistic.
"Turkeys are doing very well in San Diego County and we are setiing an ever increasing dispersal of birds into new areas each year," state wildlife managers there.
Over the past few year; spring turkey hunting pressure has been very high in San Diego County on open hunting 'land within BLM boundary lines and of the Cleveland National Forest.
Private Ranches in San Diego also are heating up the writer suggests sites he has made for his real estate clients (mostly ranchers) to help them keep their properties after purchase…
www.ranchhuntandfish.com
has lots of SoCal ranches, exclusive and not well known..
County by county information on fishing and hunting clubs in California and Oregon for private fishing, hunting clubs, and exclusive network of hunting ranches found nowhere else

-see below
Latest News Turkey Hunting Cleveland Forest and San Diego Hunting
Turkey-hunting opportunities that dried up so to speak, with the on going drought that has ensued the last few years. That should change soon. But San Diego County still has fair or more hunting in the Descanso and Palomar ranger districts in the Cleveland National Forest. On private ranch land there are much more turkeys towards Palomar Mountain.
See More below on HOW TO SCOUT FOR TURKEYS
HERE IS OUR WEBSITE TO FIND PRIVATE AND PUBLIC LAND CONTACT INFO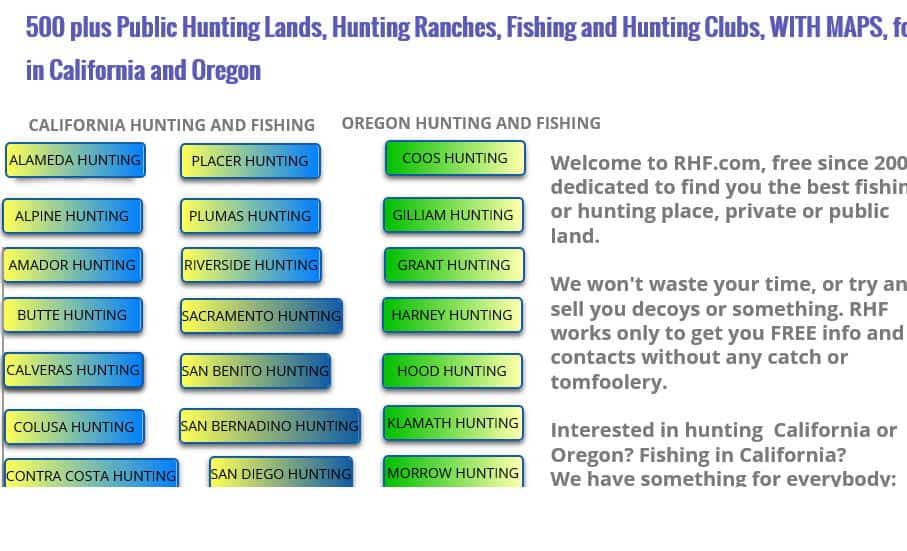 SCOUTING FOR TURKEYS
Hunters should study the habits of wild turkey and take every opportunity to scout an the grass is green on the hills, this is the right moment to take a .22 and hunt for ground squirrels. They are harder hunting than you might think.
The skills you develop on these little rodent pests will serve you well later on in the year for cottontail rabbit hunting, and in the fall, the stalking skills you practiced in the spring will help you bag that deer this year.
Look for ground squirrels along the edges of cultivated land (make sure you have the landowner's permission to hunt) or in the rocky foothills of the desert and the Cleveland National Forests.
It's almost impossible to walk up to a turkey hunting in the mountains of San Diego County, so do most of your hunting once you have picked out a spot to set up. Turkey Hunting on the move will do nothing more than keep pushing birds farther away from you.
As the second peak season starts winding down, gobblers begin searching out any remaining non-nesting hens or those hens whose nest may have been destroyed-by predators or the elements. During this period, which traditionally takes place the last two weeks of the spring season, toms will be expanding their area in hopes of locating a cooperative hen. This could mean that a tom coming off a roost might travel as many as 10 miles a day looking for a breed able hen. This is when calling a lone tom into a decoy becomes more effective.
Also at this time of the season, hunters will start seeing more jakes on the move as they become more mature and develop breeding instincts, thus becoming competitors to bigger gobblers that still maintain a strong breeding urge.
Speaking of different species for hunting in California , another site to use is
www.freehuntfishmaps.com
, where you can get maps to public and private ranches, no strings attached, and contact info too….
FREE HUNTING MAPS FOR TURKEY IN CALIFORNIA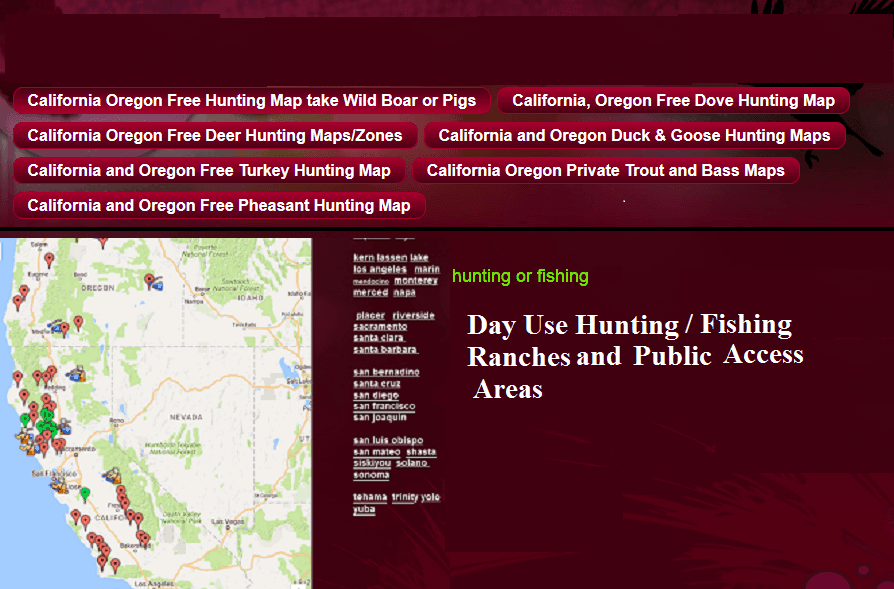 Hunting Areas that could produce a big gobbler late in the spring turkey hunting season are going to be difficult to get to. Plan on packing in a few miles off a paved road to get to a clearing or area that holds a few vocal toms.
The rugged slopes of the San Bernardino National Forest also hold a good turkey population. point. Good hunting and fairly accessible areas are also off 2N10 and 2N86 Forest Service roads. For more information on higher elevation hunting areas, snow levels anc road access, contact the Mountaintop Ranger District (909-866-3437).
California hunting clubs, hunting ranches, public and even private fishing
Hunting private lands in California has several advantages over the public areas. Chief among these are much less hunting pressure, better forage and water supplies and easier vehicle access. It's a fact of life, and hunting on private ranches is almost a sure thing.
We use a hunting map site that has over 200 private ranches, with or without guides
www.ranchhuntfish.com
Please click on a County for Fishing and Hunting Clubs, Ranches or the Best Public Land Areas
Please click on a County for Fishing and Hunting Clubs, Ranches or the Best Public Land Areas
Contact Me
for Newsletter
Get on our mailing list for Newsletter and to receive New Fishing and Hunting Maps and Hot Spot News in your areaIf you want FREE info on Hunting access and Fishing on over 200 Private Ranches and Hunting clubs, fill this out ! (We NEVER release your info to anyone not specific to this inquiry!)