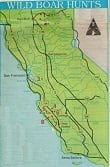 2019 Pig Hunting and hunting Maps for Hunting in California and Oregon, public lands and private hunting clubs
Pig Hunting and Hunting Maps for California and Oregon, Best Areas Public Lands and Private Hunting Clubs
We are your source for Hunting in California and Oregon, public lands and private hunting clubs and ranches. We have over 100 Maps with
detailed information
on how and where to hunt and fish. You should subscribe below to get free access. Here is a sample:
Our sites include FREE maps for access for Pig Hunting, as well as FREE contact info for 100's of Pig Hunting ranches, clubs, and Public lands. Our network of 100 plus Hunting ranches is exclusive, available nowhere else, sourced from our long years of ranch land sales. We help our old customers (we are rural land brokers) keep their lands, and you get to benefit, with properties from 1000 to 50,000 acres in size.
Duck Hunting Clubs, Duck Hunting refuges, all with FREE maps. List of
Pheasant Hunting clubs
for planted and wild upland birds with FREE phone contacts. We have broken our Hog Hunting info into hunting guide operations, or those that are self guided.
or click on the county below:
Private ranches offer exciting sport for wild pigs hunters
Deer or Bird seasons
are over in California and hunters are limited. It's about the only
game in town, right? Wrong!
How about wild pig hunting.
In fact, after
bear season closes in December, pig
hunting is the only big game in town!
Pigs are tough, mean and smart. A
healthy wild boar will tip the scales
anywhere between 150 and 400 pounds.
Adult boars have been known to sport
razor-sharp tusks in excess of 3 inches,
although most won't get quite that large.
Pigs with tusks 2 inches or longer are
considered trophies, and most private
ranches charge a trophy fee for those
types of teeth.
Wild pigs are known to be smart,
fast, ornery, tougher than nails, and
more than willing to gore the heck out
of you should you wound one and let it
get too close.
Steep, rugged canyons, thick
bush, and mud hole washes. Those are places wild pigs like to hang out. That means you'll have to be ready to do some brush busting and hiking in
order to flush out a pig. Particularly now because it's
still pretty hot and the pigs will be holding tight.
December, January, February, and March are the

best pig hunting months.

When it's real hot pigs are

like rabbits, you almost have to step on them to kick

them out of the brush.
Fallen acorns
determine where he'll look for pigs. Acorns are pigs'
primary food source in the Sierra foothills. Pigs are primarily nocturnal during the hot days of
the summer, and even into the winter months they
usually stay in their "wallows" during the day and feed
primarily early in the morning and at dusk. So the best
hunting is at dawn and dusk.
Most people hunt pigs by either spotting and stalking, or by hunting in a group and driving a pig from
it's
wallow.
(See our archived Posts to the right for more detailed pig behavior and location techniques)
Almost all of the feral hogs in California came from about seven or eight
different varieties of pigs brought into
the state by early farmers and ranchers.
They attempted to raise them like cattle,
allowing them to graze freely, but so
many of the pigs escaped that most
ranchers rapidly abandoned that idea
and fenced them in.
The pigs that
escaped were the beginnings of California's wild pig population.
Since most of the really good pig
hunting takes place on private ranches
where the hunter pays a fee and hunts
with a guide, success rates are excellent.
Prices and services vary, but most
of these private ranches offer one- or
two-day hunts complete with room and
board. Here's a rundown on some of the
top California's top pig hunting
ranches:
Our Free Map Site hunting access to over 500 ranches, and hunting clubs. Some have pig hunting guides, other are not guided. Many
Public lands
for pig hunting are also listed.
Always free with no strings attached, and even devoid of advertising or trying to sell you decoys or something, our sites will help keep the outdoor world we love preserved for generations.
STATEWIDE PIG HUNTING MAPS:
(Use the numbers to match with our table of counties below and click on the appropriate county)
(Use the numbers to match with our table of counties below and click on the appropriate county)
Information on fishing and hunting in California private fishing, hunting clubs, and exclusive network of hunting ranches
Our other site for Boar hunting, etc. properties listed county by county, so you can get something close to your home. All our sites can be used to find hunting contacts for Duck Clubs, pheasant hunting for both Wild and Planted upland birds, and even private Fly Fishing properties….All at no charge, we only ask you take a youngster hunting or fishing sometime soon.
For a comprehensive list of all Boar Hunting opportunities where you live, try out
2017 PIGS TAKEN MAP, DARKER SHADES MOST SUCCESSFUL
Please click on a County for Fishing and Hunting Clubs, Ranches or the Best Public Land Areas
Please click on a County for Fishing and Hunting Clubs, Ranches or the Best Public Land Areas
Contact Me
for Newsletter
Get on our mailing list for Newsletter and to receive New Fishing and Hunting Maps and Hot Spot News in your areaIf you want FREE info on Hunting access and Fishing on over 200 Private Ranches and Hunting clubs, fill this out ! (We NEVER release your info to anyone not specific to this inquiry!)